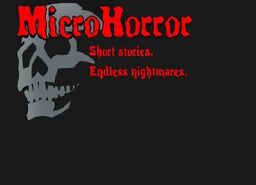 MicroHorror is a horror flash fiction site that was founded and is edited by Nathan Rosen.
It went live May 7, 2006 and since its inception, it has amassed over 2,000 stories in its library. Stories on MicroHorror are held to a strict maximum of 666 words.
Every year MicroHorror has a Halloween flash fiction contest.
External Links
Edit
Official Website: http://www.microhorror.com/microhorror/